Dr. Jack Stanford is Emeritus Professor of Ecology at the Flathead Lake Biological Station of The University of Montana, where he was the Director from 1980-2016. He retired and live on the Twisp River in Washington. This American is also on the board of Trustees (kept secret from the public in particular from local citizens and the press) They sell themselves as locals defending local rivers, and that is so very untrue.

We should also add that Skeenawild just received a quarter million dollar grant from the Pacific Salmon Watersheds Fund, sort of like money laundering for the Tides Foundation. (click on image to enlarge)
---
Skeenawild Conservation Trust
Greg Knox– Executive Director
Dan Mesic – See above (Skeena Strong -chairman for the Skeena-Bulkley Valley NDP Association)
Jim Pojar –  a founding trustee of Skeena Wild Conservation Trust
Christine Martin
Kirby Muldoe
Greg Brown
Sarah Railton
Michael Price
Julia Hill
Joelle St-Gelais communications coordinator
Nita Back
Gladys Atrill a former Trusty
Walter Joseph a former trustee is a Fisheries Manager for the Office of the Wet'suwet'en
John Ridsdale aka Chief Na'Mox, Herditary Chief a former trustee is/was also works for the Office of the Wet'suwet'en
SkeenaWild also reported zero foreign funding and yet U.S. tax returns show that it was paid $1.5 Million (2009-2012) from the Gordon & Betty Moore Foundation. Based in San Francisco, Moore is the biggest funder of environmental groups in B.C. and has granted $140 million over the past decade. Of that, $90 million was for projects on the north coast of B.C. To its credit, SkeenaWild acknowledges that its foreign funding was reported incorrectly and for 2014, SkeenaWild reports that more than 80% of its million dollar budget is from outside Canada. (source Everything you need to know about the Tides Foundation)
They are actively engaged in creating roadblocks for the Telkwa Coal Project, Vopak Pacific Canada, pushing for a new BC Environmental Assessment Act. SkeenaWild is working with other Eco-radical organizations pushing for impossible to meet mining laws. They are linked with UVic Environmental Law Centre, West- Coast Environmental Law, Northern Confluence and Mining Watch Canada, both are Eco-radical organizations. They also have their noses into the Kalum LRMP Plan Implementation Committee. They continue to try lead First Nations by coaching them as to what policies they need to make as opposed to allowing them to decide that for themselves.
SkeenaWild and other Eco-Radical organizations played a key role in stopping the PNW LNG development in Prince Rupert. After 5 years of participating in Environmental Assessments, multiple court cases and independent scientific studies, the company pulled out.In January of 2019, the Prince Rupert Port Authority announced a development moratorium on Flora, Agnew, Horsey Banks, and the adjacent foreshore of Lelu Island. Keep in mind that the NDP goverment has Jennifer Rice working with the Eco-radicals, inclusive of Nathan Cullen and  Taylor Bachrach, an all NDP team. In October of this year the Port Authority formalized the development moratorium in their land use plan.
Note they have now hidden from the public who the executive members are, they want you to send your hard earned money, but refuse to let you know who is pocketing it. The list above is one we put together doing some serious internet searches to uncover what they seem to want to hide. We obtained the names via identifying their faces in a Zoom conference. Only a few of the members are even local, the rest have no vested interest in our region.
This should be a red flag to anyone who thinks they are a legitimate organization, why the need to hide who runs it? The fact that it also shares a common thread with the NDP Constituency Association of Smithers and Terrace should raise major red flags. The names went dark on the heels of the C48 Tanker ban hearings, isn't that a coincidence.
Note they are funded by the following individuals (self admitted) plus volunteering their names to legitimize and organization that hides their real identity. Note the names there are quite a number of known eco-radicals (leaf lickers) in that list. We took this information from their website published for all to see.
Wendy Hadley
Diana Belevsky
John Swift
Chouinard Family (owner/founder of Patagonia)
Bob Shaunessy
Rick KoeTerry Leggat
Tony Garvey
David Cole
Lindsay Eberts
Larry Garlic
Pic WalkerER Labbe
Paul Kranhold
Richard Cline
Steve Lewis
Gary Seput
Rick Bresnahan
Glen Rumpel
Bob Oliver
Provincial Employees Fund
Dean Chandler
David Finkel
Matthew Millette
Steve and Sonja Perih
Jim Pojar
John Rodelli
Donald Ferris
Chris Pizey
Danielle Billey
Kai Nagata
Terry Churchill
Ron Dyslin
Henk Vervloedt
Kristin Kovalick
Gesche Nordmann
Matthew Deschamps
Theresa Walker
Rob Hart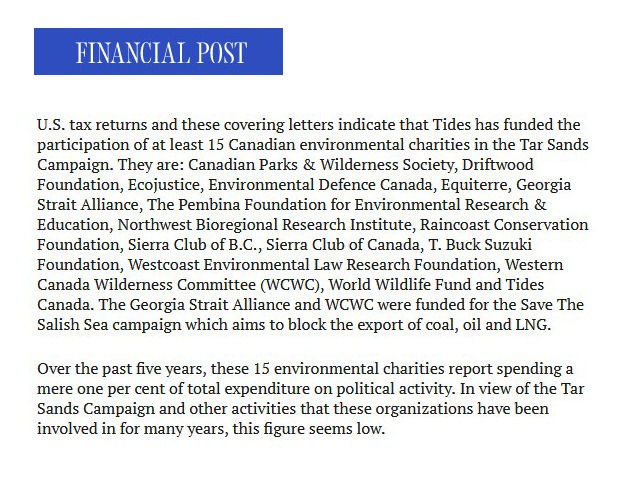 NOTE: Many of the following contributors have no idea where they were sending their money, most of them thought they were sending money to protect wild salmon, I seriously doubt they knew they would be lumped it with radical organizations trying to shut down development in the north.
They now use these same organizations and business to give themselves legitimacy. I would highly recommend you use your contacts or personally  contact these organizations and business to have them withdraw their names as supporters. How can locals support businesses that help fund our own demise?
Note they are cleverly mixed in with some of the most extreme and abusive environmentalist organizations in Canada. We need to DEMAND the removal of their public support for this radical group or lose our local support.

Real Estate Foundation of BC
Northern Savings Credit Union
TD Bank Group
BABINE RIVER FOUNDATION
Terrace Community Foundation
The Firelight Group
Wild Salmon Center
Patagonia
Swift Foundation
Wilburforce Foundation
Margaret A. Cargill Philanthropies
Tides Foundation USA
Makeway (also Tides)
Tides Canada
Boreal Songbird Initiative
Naiad Stewardship Solutions Inc
Nature's Pantry
Axis Mountain Technical
Silver King Helicopters
Nicholas Dean Outdoors
Wendy Hadley – Remax
Suskeena Lodge
Babine Norlakes Steelhead camp
HY-TECH Drilling LTD
RUINS BOARDSHOP LTD
Aquabatics
Wild Bike
Sherwood Mountain
Butter Hair & Co
Nourishing Life Wellness Clinic
Oscars Fly & Tackle.
Smithers Brewing Co.
Prince Rupert Port Authority
BC Hydro